Instance Manager
The Losant Instance Manager is a tool that allows for the management of multiple Losant Organizations utilized within a single enterprise company. Most Losant users will never utilize the Instance Manager, and are instead end users of sandboxes or organizations that are administered under an instance.
Intended Audience
The Instance Manager is intended for use by the following types of users:
Administrators in large-scale, enterprise companies, with organizations distributed to different divisions or international groups.
Official Losant partners, resellers, and certified developers.
Enterprise customers who utilize private installations of the Losant platform.
Gaining Access
If your Losant account is currently a member of a Losant Instance, you will find an icon that provides access to the tool in the main navigation of the platform interface.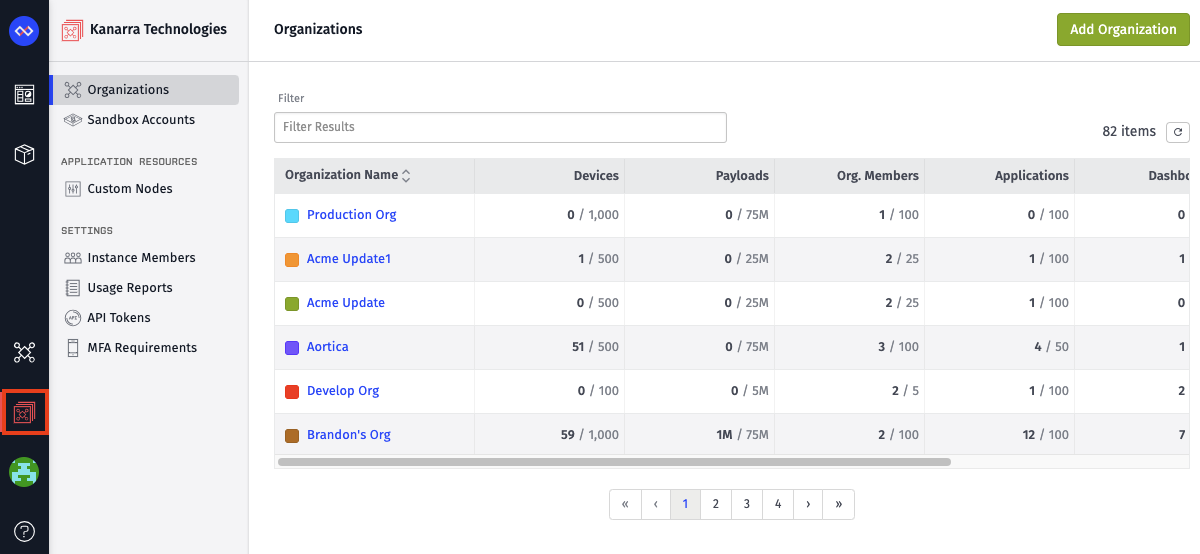 If your company does not have access to the Instance Manager, and you feel that it would benefit from its use, contact your Losant account manager about creating an instance and moving your existing organizations into the management tool.
Use Cases
The Instance Manager's primary purpose is to allow administrators to manage organizations under their parent company. For example, the Instance Manager can be used to:
Create new organizations.
Manage organization membership.
Apply resource limits to organizations.
Temporarily disable payloads form moving through an organization's applications.
Note: Users who are part of an instance do not have full access to the organizations under the instance; however, instance administrators may add themselves or other users into one of their managed organizations at any time should you need to gain access to its applications and their sub-resources.
Managing Membership
From the subnavigation of your instance, select the "Members" link to view the current members of your instance along with each member's role and multi-factor authentication (MFA) status.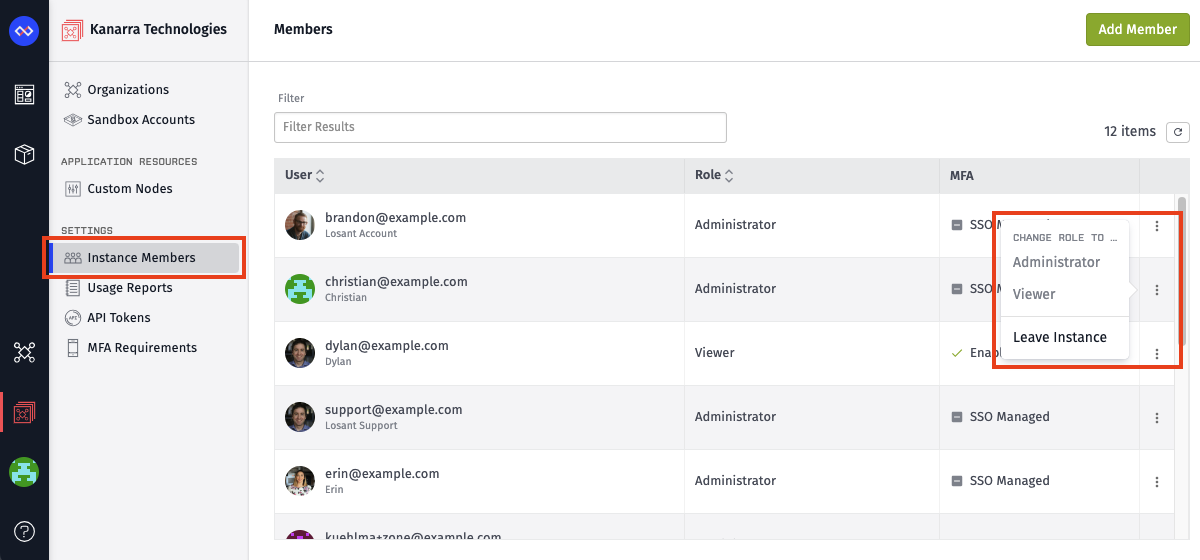 Member Roles
Unlike the more granular organization member roles, there are only two distinct roles that can be applied to members of an instance:
Administrators have full access to all the tools within the Instance Manager. They may create, manage, and delete organizations; and add, remove, or change the role of other instance members. An instance must have at least one administrator at all times.
Viewers may view, but not edit, all the properties of an instance's organizations. They may also view but not edit the membership of the instance itself.
MFA Status
Each member of an instance will have their current multi-factor authentication (MFA) status displayed next to their role. The possible states of MFA are:
SSO Managed - The member is using single sign-on (SSO) for authentication and whether they have enabled MFA through that account is unknown to Losant.
Enabled - The member authenticates directly with Losant and they have MFA enabled on their account.
Not Enabled - The member authenticates directly with Losant and they do not have MFA enabled.
Adding Members
To add a member to an instance, click the "Add Member" button above the members list. This will bring you to a screen where you may enter the email address, as well as select a role, for the new member.

Unlike for organizations, where new members are added by invitation, adding a member to your instance is instantaneous and does not require opt-in from the new member. Also, any new member must already have an existing Losant account before being added to the instance. (For organizations, the new member has the option of creating an account if they do not yet have one.)
Editing Member Roles
Administrators have the option of changing the role of any instance member (including their own role) by opening the "Actions" dropdown in the user's row in the list of members. Then, select the user's new role.
Removing Members
Administrators may also remove any member using the same dropdown menu and selecting the "Remove Member" option. The member may be re-added at any time in the future.
Leaving an Instance
If you would like to leave your company's instance, you may open the "Other Actions" dropdown within your user's row in the members table and select "Leave Instance", which is in place of the "Remove Member" option. This action cannot be undone, and in order to regain access to the instance, another administrator will need to add you again.
Was this page helpful?
---
Still looking for help? You can also search the Losant Forums or submit your question there.